Community Meeting Input
Visions for the Our Town Planning Process
February 6, 2014
Chat Session w/Paul Andersen
What do we want to see in the downtown master plan?
Access to the rivers
Hotel site: Do not lose visual access to the river
Town square: Pedestrian-only, fountain, benches
Move Town Hall out of Triangle Park
Vacate old Highway 82 to connect Triangle Park with the river property
Connectivity from new Highway 82 to downtown via tunnel, overpass?
Grocery store, drug store, hardware store
More day care options, especially for newborns
Live/work space: lower rents, combine space with business incubator
Activities to keep kids in town after school, programs for teens
Community/non-profit cultural center (similar to 3rd St. Carbondale)
Performing arts space on river for art and music, rented out for events
Walkway along Frying Pan River connecting swinging bridge to the Conservancy property
Safe, continuous walkways throughout downtown
Pedestrian mall downtown with alternate route for traffic; possible service access at Iron Horse building alleyway
Hotel at Clark's Market location with parking underground
Outdoor concert space for "Shakespeare in the Park" type events
Attractions and retail mix that supports sophisticated consumers
Kayak park similar to the one in Salida
Confluence Park like in downtown Denver – community gathering place, kayak park with demo equipment provided by REI (Recreational Equipment, Inc.)
Fisherman's Park below Riverside Grill/Taylor Creek fishing shop
Connect Riverwalk Path to Confluence Park
Market/grocery store (the size of Roxy's at AABC) in former Bristlecone space – visibility from Highway 82
Parking on town property/park near the roundabout
Mexican restaurant at former Bristlecone or Clark's Market space
Movie theatre like the Crystal or outdoor projection screen
Get Involved
Wondering how you can still get involved in the Our Town Planning process? See: Participation.
A Report on Informal Networks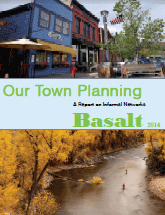 A Report on Informal Networks (PDF – 5.8 MB)
Chat Session Meeting Notes
Read topics that people are discussing.
• May 09, 2014 : Town Staff Chat (PDF: 62kb)
• May 07, 2014 : Knight Residence (PDF: 33kb)
• May 06, 2014 : Seniors Group Chat (PDF: 41kb)
• Apr 26, 2014 : Groves at Clasen Corner (PDF: 21kb)
• Apr 17, 2014 : Pendleton Residence (PDF: 450kb)
• Apr 09, 2014 : Gallagher Family (PDF: 300kb)
• Apr 03, 2014 : Johnson Residence (PDF: 29kb)
• Apr 02, 2014 : Lions Club (PDF: 20kb)
• Mar 27, 2014 : Cottle Addendum (PDF: 2.9MB)
• Mar 26, 2014 : Cottle Residence (PDF: 126kb)
• Mar 21, 2014 : Gerry Terwilliger (PDF: 585kb)
• Mar 13, 2014 : Wyly Art Center (PDF: 16kb)
• Mar 12, 2014 : Hall Residence (PDF: 16kb)
• Mar 06, 2014 : Dorr Residence (PDF: 20kb)
• Feb 27, 2014 : Hagman Office (PDF: 20kb)
• Feb 20, 2014 : Clark Residence (PDF: 25kb)
• Feb 06, 2014 : Chase Residence (PDF: 117kb)
• Jan 16, 2014 : Master Plan Summary (PDF: 109kb)
• Jan 16, 2014 : Kane Residence (PDF: 40kb)
Conceptual Site Plan for Park
Southside and East Basalt Map